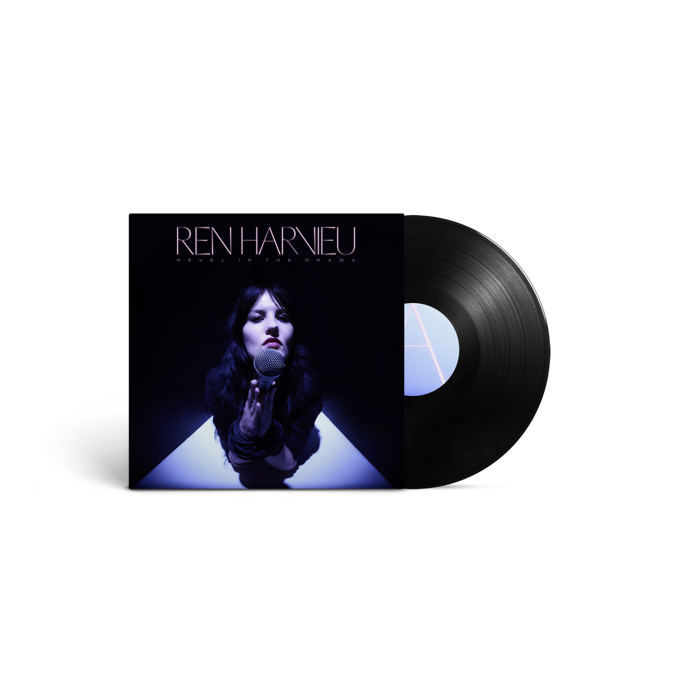 Revel In The Drama - LP
180g heavyweight black vinyl, gatefold sleeve, download code included
Ren Harvieu has announced news of her long-awaited new album Revel In The Drama, due for release 3rd April via Bella Union. The album is a brilliant, bolder and broader take on her timeless pop classicism, a compelling diary of a struggle with self-belief and a celebration of liberation and survival, seven years after her Top 5 debut album and having overcome a life-threatening injury. Think of Revel In The Drama as Harvieu's second debut album; a new beginning.
Harvieu's defiance against the odds and her willingness to lay herself open to make what she believed was within her is baked into every groove of the record, across every stylistic turn: the giddy pop of 'Strange Thing', the gothic swoon of 'Cruel Disguise', the smokey seductiveness of 'Yes Please' through to the stirring torchsong finale 'My Body She Is Alive'.
Harvieu has come a long way from the 17-year-old who was signed to Island Records and who had no intention of becoming a singer-songwriter. Even when she made her debut album "Through The Night", her confidence was low. "I did help write a few of the songs on that record, which I'm still very fond of, but I felt more of a mouthpiece for someone else's talent, which eats away at you especially because I had so much to say lyrically I just hadn't learnt how to as yet."
Her injury - a broken spine following "a freak accident" between recording and releasing her debut album - undermined Harvieu even further. Likewise, Island parted ways with her six months after it's release, despite a Top 5 chart entry, making the BBC's Sound Of 2012, a 5-star live review from The Guardian and TV exposure. What followed was what Harvieu describes as "some very dark years" which she addresses in songs like 'Spirit Me Away' and the 50's ballad-evoking 'You Don't Know Me.' A split with her long term partner, her manager and then her beloved Salford. "In one fell swoop everything was gone. I knew I had to get away, start again, rebuild myself."
It wasn't until 2015 to be exact, when she met Romeo Stodart, the Magic Numbers frontman and songwriter who had emailed after seeing her perform on Later… With Jools Holland, to ask if she'd consider writing together. "When we started, the energy was immediately different to anyone I'd worked with before, there was this insane instant musical connection" she says. "I loved that Romeo really embraced who I was and encouraged it, I was starting to realise that I didn't have to be anything other than myself."
The pair spent the next two years co-writing: "I wasn't in a massive hurry, because at last I was having fun" Harvieu says. 'We'd stay up all night drinking, dancing and playing music, I felt like I was re-discovering a girl who had been hidden, quietened. I'd tell Romeo, I don't just want to paint pretty pictures I want to revel in the drama of my life, the good and the bad, before I was afraid to say something in my lyrics, but no longer. I felt free."
The album was co-produced by Romeo Stodart and Dave Izumi Lynch, owner of Echo Zoo studio in Eastbourne where recording took place. "It was a truly magical experience working with Dave & Romeo, they are two absolute nurturing musical wizards." says Harvieu.
Harvieu's lyrical confidence is evident throughout the album and has you leaning in to absorb line after line. Her voice, soaring and caressing in equal measure, is matched in force by her flirtatious personality. From the album's opening lyric "Let me put my paws on you, strange thing'through to the feminine bite of 'Curves And Swerves' "I've got some curves and some swerves, what you gonna do about it?" which crackles with sexual tension and an aching vulnerability.
Among Harvieu's new songs are messages of hope to her younger, anxious self. To the teenage goth Ren in 'Little Raven', she says: "I want you to know, that I'm starting to feel, but its gonna take time, but I'm ready to heal". 'Tomorrow Girl Today' is to the Ren "who would make bad decisions… we can all be very self-destructive, but will we make it this time?"
So what now, Ren Harvieu? "I've created a second chance for myself" she says. "And I will keep creating second chances for myself, because this is my life and I'm not afraid to revel in it anymore." Revel In the Drama of Ren Harvieu - finally we all can too.
Tracklisting:
Strange Thing

Teenage Mascara

This Is How You Make Me Feel

Curves And Swerves

Cruel Disguise

Yes Please

Spirit Me Away

This Is Our Love

You Don't Know Me

Tomorrow's Girl Today

Little Raven

My Body She Is Alive